Born in 2005, Made in Steel has constantly grown through the years and the editions, in terms of both exhibitors and attendance. As a result, in 2013 the tradeshow moved from its original venue in Brescia to Milan (fieramilanocity) and then in 2015 to Milan's Rho site (fieramilano) in concomitance with its drive to go international. The 2019 edition, according to the figures validated by ISF – Institute for Certification of Trade Fair Statistical Data, was the best edition ever of Made in Steel, creating the participation of the largest number of exhibitors and visitors in the history of the event. The Conference & Exhibition at fieramilano Rho, with over 12,000 square meters of exhibition space (+10% compared to the 2017 edition) and over 300 exhibitors (+56% of the foreign company compared to the previous edition), registered over 16,500 visitors, up 12.3% compared to the 2017 edition. Foreign attendance reached 26% of the total. According to the Customer Insight of Made in Steel 2019 drawn up by the third-party Grs Explori, overall satisfaction with participation in the event was positive for 83.2% of visitors and 91.1% of exhibitors.
KEY PLAYERS working with US at the previous tradeshow editions
Many of the Italian steel industries historic figures have attended the last seven editions of Made in Steel, participating actively in the ongoing debate. They include, to mention just a few:
Luigi Lucchini
;
Steno Marcegaglia; Nicola Amenduni
(President, Valbruna Group);
Giovanni Arvedi
(President, Gruppo Arvedi);
Gianpietro Benedetti
(President, Gruppo Danieli);
Alberto Bregante
(CEO SMS INNSE);
Antonio Gozzi
(Duferco);
Jens Lauber
(President, Eurometal);
Giuseppe Manni
(President, Manni Group);
Antonio Marcegaglia
(President, Marcegaglia Group);
Giuseppe Pasini
(President, Feralpi Group)
; Emilio Riva; Alessandro Trivillin
(CEO Acciaierie Bertoli Safau).
Made in Steel
has also welcomed many international guests from the steel industry, public institutions and the academic and research world. This is because we make a point of focusing on innovation and knowledge sharing, which is just the sort of cross-fertilisation that triggers new ideas and pushes back horizons. That's why over the years we've involved people like
Marco Fortis, Riccardo Monti, Simone Moro, Dipak Pant, Jeremy Rifkin, Marina Salamon, Giacomo Vaciago, Marco Vitale.
During every edition of the event, an expert jury gives the Made in Steel Awards. Prizes are assigned to exhibitors and stand designers for the forcefulness and flair of their message, and for the most effective, ground breaking presentations of their products and services.
There are three award categories: Best Communication Stand, for the most effective advertising effort; Most Friendly Stand, for the most welcoming stand; and Best International Stand, for the stand with the most international flavour.
New X EDITION:
This was the first edition of the
Honorable Mention for Sustainability
, which recognized the most successful exhibitor in giving sustainability and circular economy issues centre stage in the stand set-up. The jury's decision-making process considered choices made during the preparation phase (selection of materials, use of recycled and recyclable materials, repurposing of previously used event materials) and the type of narrative and experience offered to visitors.
The last editions saw the following awards and award winners:
Made in Steel Awards 2023
Best Communication Stand: LA CISA
Most Friendly Stand: FORSTEEL
Honorable Mention for Sustainability: AFV BELTRAME GROUP
>> Read more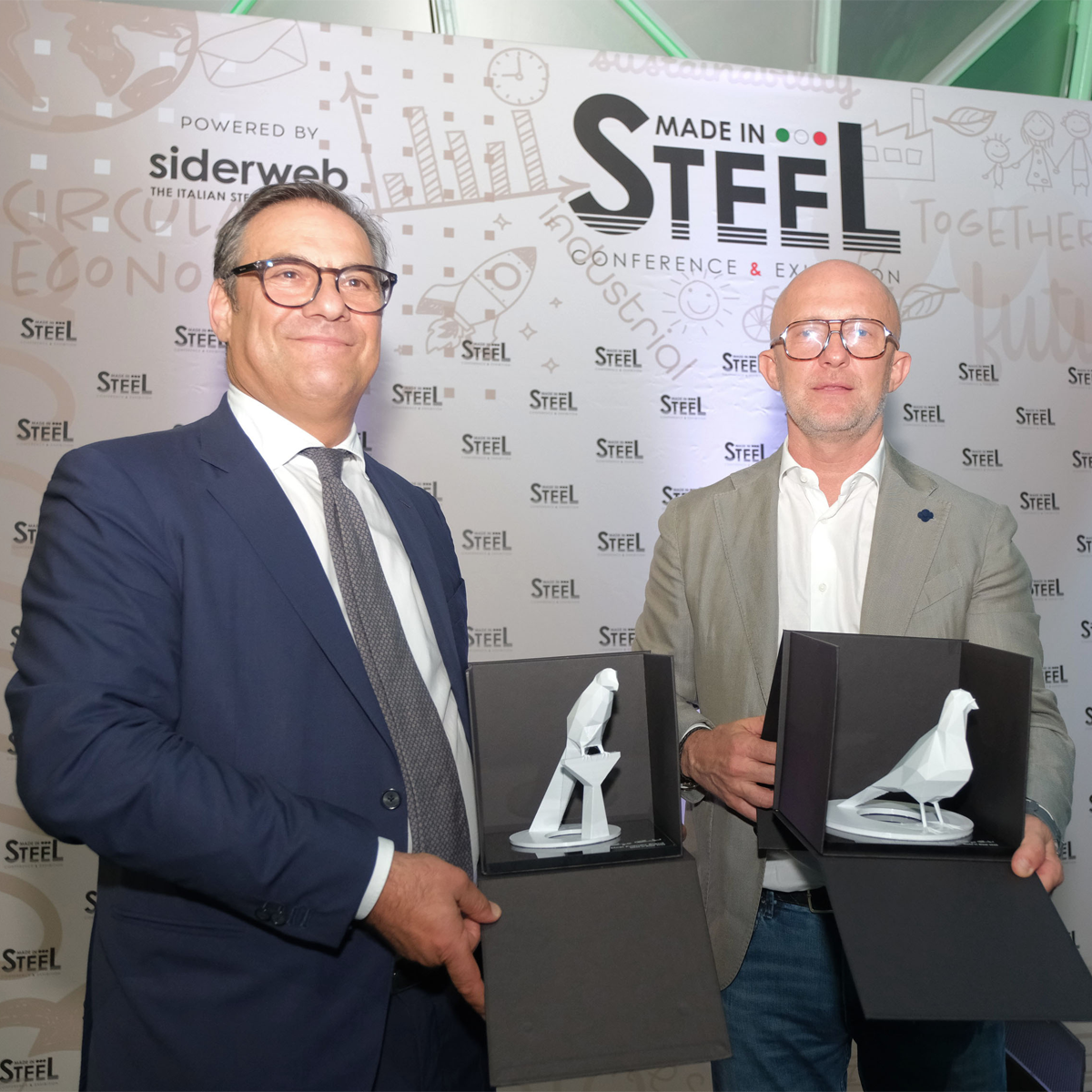 Made in Steel Awards 2021
Best Communication Stand: AFV BELTRAME GROUP
Most Friendly Stand: FERALPI GROUP
Best International Stand:ACCIAIERIE VENETE
>> Read more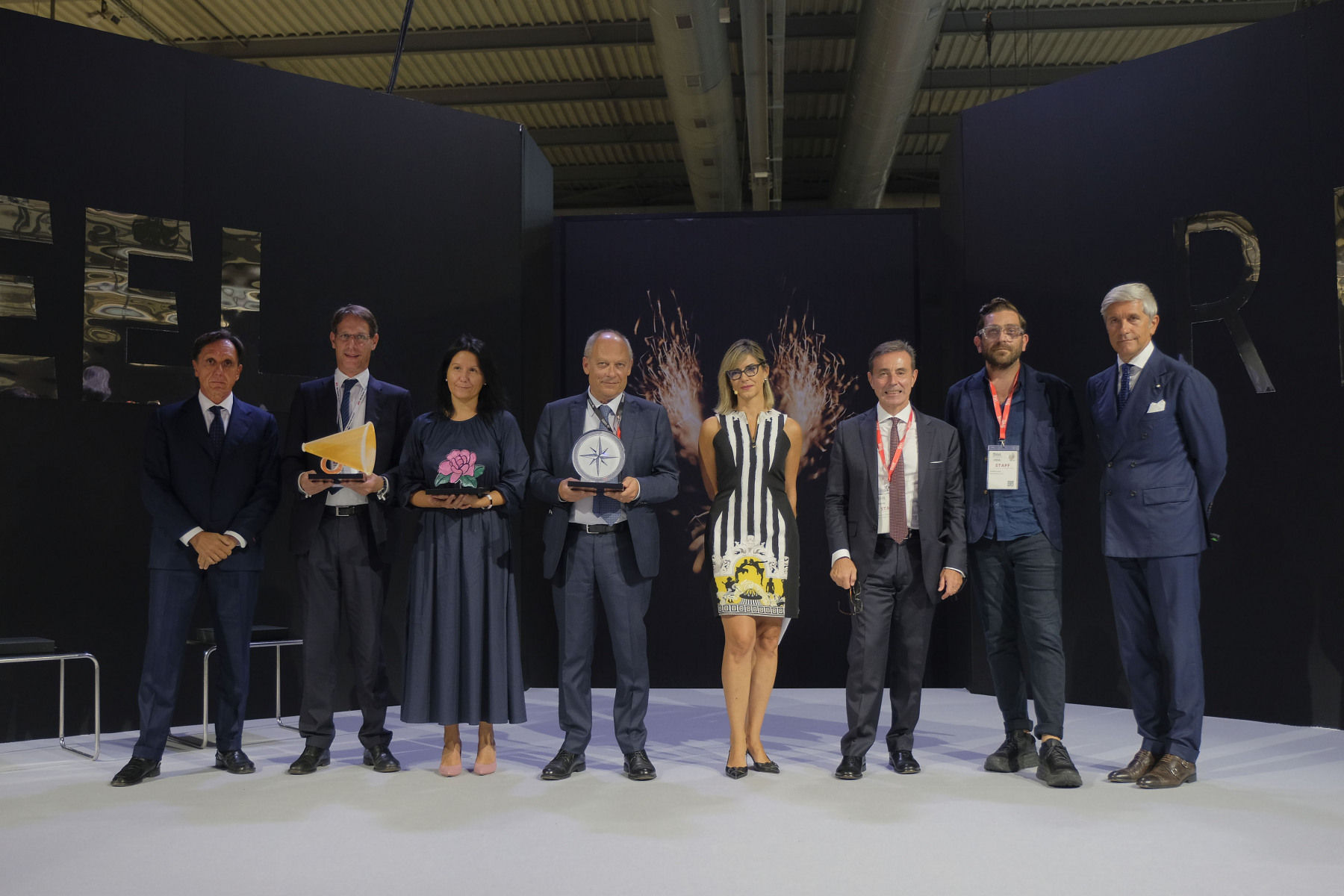 From the left: Enrico Fornelli (Chief Commercial Officer AFV Beltrame Group ), Alain Creteur (Managing Director AFV Beltrame Group ),

Isabella Manfredi (CSR Manager,

Head of External Relation

Feralpi Group ), Francesco Semino (Acciaierie Venete

External Relations Director

), Raffaella Poggio (RP communication), Emanuele Morandi (President and CEO Made in Steel), Giorgio Guidi (Made in Steel 2021 Art Director), Luigi Cuzzolin (Made in Steel Vice President)
Made in Steel Awards 2019
Best Communication Stand: ARCELORMITTAL ITALIA
Most Friendly Stand: APERAM STAINLESS SERVICES & SOLUTIONS ITALY
Best International Stand: LA CISA TRASPORTI INDUSTRIALI E CALVI HOLDING
>> Read more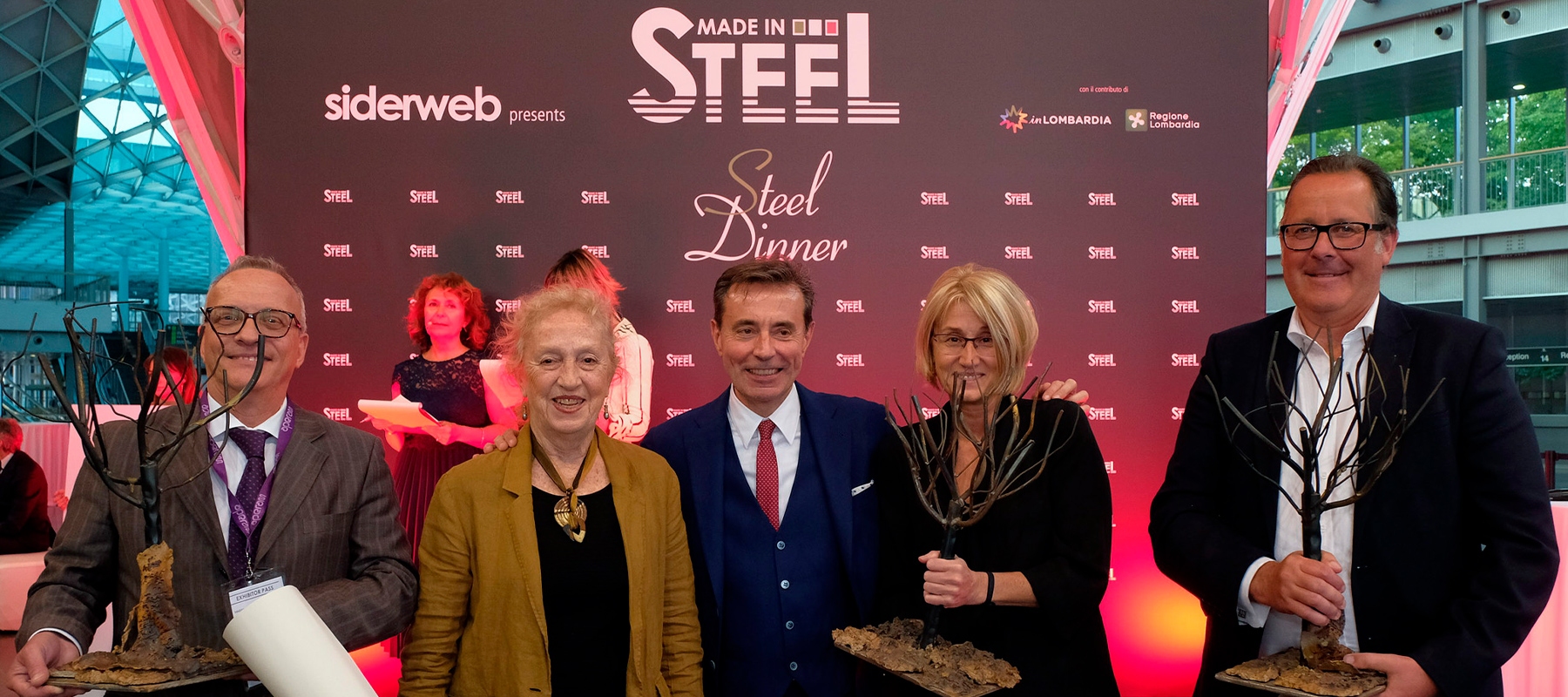 In the picture, from left: the representative of Aperam; Maria Cristina Carlini, the artis who created the awards (three works of art from her 2014 series called "Alberi" (which means "Trees"), made in iron, stoneware and gold dust), Emanuele Morandi Made in Steel CEO, the representatives of ArcelorMittal Italia and Liberty Steel.
Made in Steel Awards 2017
Best Communication Stand: ACCIAIERIE VENETE
Most Friendly Stand: EURO SIDER SCALO
Best International Stand: BAOSTEEL ITALIA DISTRIBUTION CENTER



In the picture, from left: Lucio Dall'Angelo, General Manager Siderweb, Stefano Grondona, CEO Baosteel Italia Distribution Center, Nicola Pastorelli, General Manager Euro Sider Scalo, Emanuele Morandi, CEO Made in Steel, and Francesco Semino, Head of Institutional Relations Acciaierie Venete.
Made in Steel Awards 2015
Best Communication Stand: FORNI INDUSTRIALI BENDOTTI
Most Friendly Stand: FERALPI GROUP
Best International Stand: ARCELORMITTAL



In the picture, from left: Michele Bendotti, CEO Forni Industriali Bendotti, Giuseppe Pasini, President Gruppo Feralpi, and Isabella Manfredi, CSR Manager and External Relations Feralpi Group; Salvatore Firenze, CEO ArcelorMittal Commercial Long Italia.
Made in Steel Awards 2013
Best Communication Stand: M&M FORGINGS
Most Friendly Stand: EURE INOX
Best International Stand: METINVEST
Made in Steel Awards 2011
Best Communication Stand: STEMCOR ITALIA
Most Friendly Stand: GRUPPO FERALPI
Best International Stand: GRUPPO LUCEFIN
Best Green Stand: BYELORUSSIAN STEEL WORK
Made in Steel Awards 2009
Best Communication Stand: COGEME-SIDERIMPEX
Most Friendly Stand: GRUPPO TESTI
Best International Stand: GRUPPO CLN
Made in Steel Awards 2007
Best Communication Stand: UNIFER
Most Friendly Stand: ASO SIDERURGICA
Best International Stand: GRUPPO MARCEGAGLIA